WELCOME!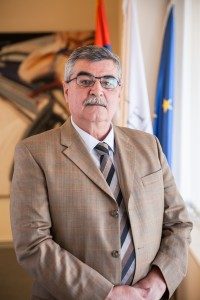 Dragan Nikodijević is permanently employed at the Faculty of Culture and Media of the Megatrend University as a full professor and as a dean of the Faculty.
               He graduated from the Faculty of Dramatic Arts – Department of Film and Television Production, as the best student of the generation with an average grade of 9.61. At the same faculty, he graduated in 1983. He received his doctorate in 1988 on the theme of the Army's Cultural Subsystem as an integral part of the culture of the Yugoslav society.
               After completing his studies, he started his career as a producer in the Informative program TV Belgrade. He was the director of TV news and the main organizer of the correspondence and exchange department of TV Belgrade.
               For many years he served in the Central Army House, one of the leading cultural institutions in the former Yugoslavia. In this institution he performed the affairs of the chief of culture and propaganda – at the same time deputy head of the institution. He edited and organized numerous public and cultural events: concerts, exhibitions, cinema repertoire, literary programs, courses, seminars, scientific meetings, amateur sections, entertainment programs …
               He participated in numerous national and international scientific conferences dedicated to various issues in the field of culture and the media.
               He is the author of a number of production and artistic works, 17 textbooks and monographs and several dozen publicly published scientific papers.
He reviewed several books in the field of cultural and communication science.
               He is the winner of the Annual Award of the Association of Economic Propagandists of Serbia for the book Marketing in Culture and Media (2007).
Judge expert in the field of copyright and drama art.
               He is the winner of the Golden Badge of the Cultural and Educational Community of Serbia. The prize is awarded for an unselfish, committed and long-lasting work and a creative contribution to the spread of culture.
"In the computer era, strategic values will be:
CREATIVITY, KNOWLEDGE AND INFORMATION."